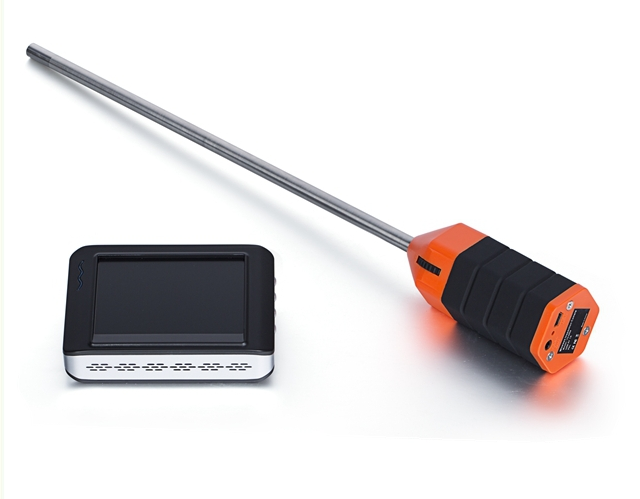 4908AL

Φ9mm Side View Rigid Wall Cavity Borescope

Kit Includes:
1x 2.4GHz Wireless Inspection Camera
1x 2.4GHz Wireless Monitor
1x Adjustable Magnetic Monitor Mount
1x Composite Video Output Cable (3.5mm Plug to Male RCA)
1x USB AC Charging Adapter
1x USB Mini to USB A Cable
1x Rugged Aluminum Carrying Case

Product details:
HVB 4908AL tool has a 11-3/4" (300mm) rigid stainless steel neck with a 90° offset camera and 2 LEDs. Looking inside a wall, ceiling, or floor is as simple as drilling a 3/8" (9mm) hole. The 90°offset camera allows you to simply spin 360°and get a full view of everything. The 2 super bright built in LEDs allow for viewing in even the darkest of places. Use the thumb-wheel on the camera handle to turn off or adjust the two LEDs to the perfect light level.
If you have fished wires before, you know the frustrations involved with running wires where you can't see; let HVB help! Fishing a finished ceiling? Pop 4908AL up next to a heating vent or can light to see what you're up against. Have an impossible wall fish? Use HVB to see inside the wall and position your drill perfectly or see potential obsticles.
HVB tool is also great for inspections of any kind. With its IP67 rated shaft, it goes where it is dirty, grimy, wet, and even underwater! Inspect everything from heat exchangers to engine blocks.
To make things even easier, 4908AL is completely wireless! The inspection camera communicates with the monitor wirelessly at 2.4GHz; no wires to get tangled! It gets better, both the inspection camera and monitor have their own built in rechargeable batteries. Get 4 Hours of use on the camera and 3 Hours of use on the monitor (fully charged) When the batteries get low, just plug into any AC outlet with the included adapter and you will be ready to go in no time!
This tool have 3.5" wireless monitor offers a Micro SD slot which allows for recording video (.AVI) and still pictures (.JPG) for future viewing. Video can be played back on the 3.5" monitor, through an external TV using the included composite A/V cable, or through a computer. Connect to a computer via the built-in Mini USB port or put the Micro SD card (not included) into any Windows or MAC computer. This is a great feature for home inspectors, pest control, HVAC, or anyone that wants to show their customers problems beyond normal viewing.
The included Magnetic Monitor Mount is a great accessory for Electricians, HVAC Techs, Mechanics, or anyone that works on or around steel cabinets or enclosures. The Magnetic Monitor Mount slips into a slot on the back of tool's monitor and allows you to mount it on anything Steel or Ferrous. With the twist of a thumb screw the monitor can quickly be adjusted to the perfect viewing angle.
Camera Features:
3/8" (9mm) x 11-3/4" (300mm) Stainless Steel Tube
90° Side View Camera Head
Two High Output LEDs Provide Light up to 4-1/2 Feet Away
Composite Video Output Port
Built-in USB Rechargeable Battery
2.4GHz Wireless Transmission to Monitor
IP67 Waterproof Rating: Dust Protection and Waterproof to 3 Feet(1M)
Camera Specifications:
Effective Pixels: 768 x 494 (NTSC), 752 x 582 (PAL)
Depth of Field: 6cm-Infinite
Field of View: 55°
Operational Temperature: -10°C ~ 60°C
Battery Capacity: 1500mAh
Work Time: 4 Hours
Charge Time: 5 Hours
Monitor Features:
3.5 Inch TFT-LCD Monitor
Receives on 2.4GHz (Wireless)
Take Stills and Record Video to Micro SD Card (card not included)
Micro SD Slot Supports up to 32GB (card not included)
Multi-Language Menu
Built-in Rechargeable Battery
Composite AV output via Included Cable
USB Port for Connection to Computer
Monitor Specifications:
Display Resolution: 320(R.G.B) x 240dot
Video Format: NTSC/PAL
Modulation Mode: FM
Receive Sensitivity: -85dBm (module)
Battery Capacity: 1100mAh/3.7V
Charge Time: 3 Hours
Work Time: 3 Hours
Consumption Current: 500mA(MAX)
Picture Format: .JPG
Video Format: .AVI
Picture/Video Resolution: 640x480
Frame Rate: 30FPS
Operational Temperature: 0~45°C
Storage Temperature: -20°C~60°C