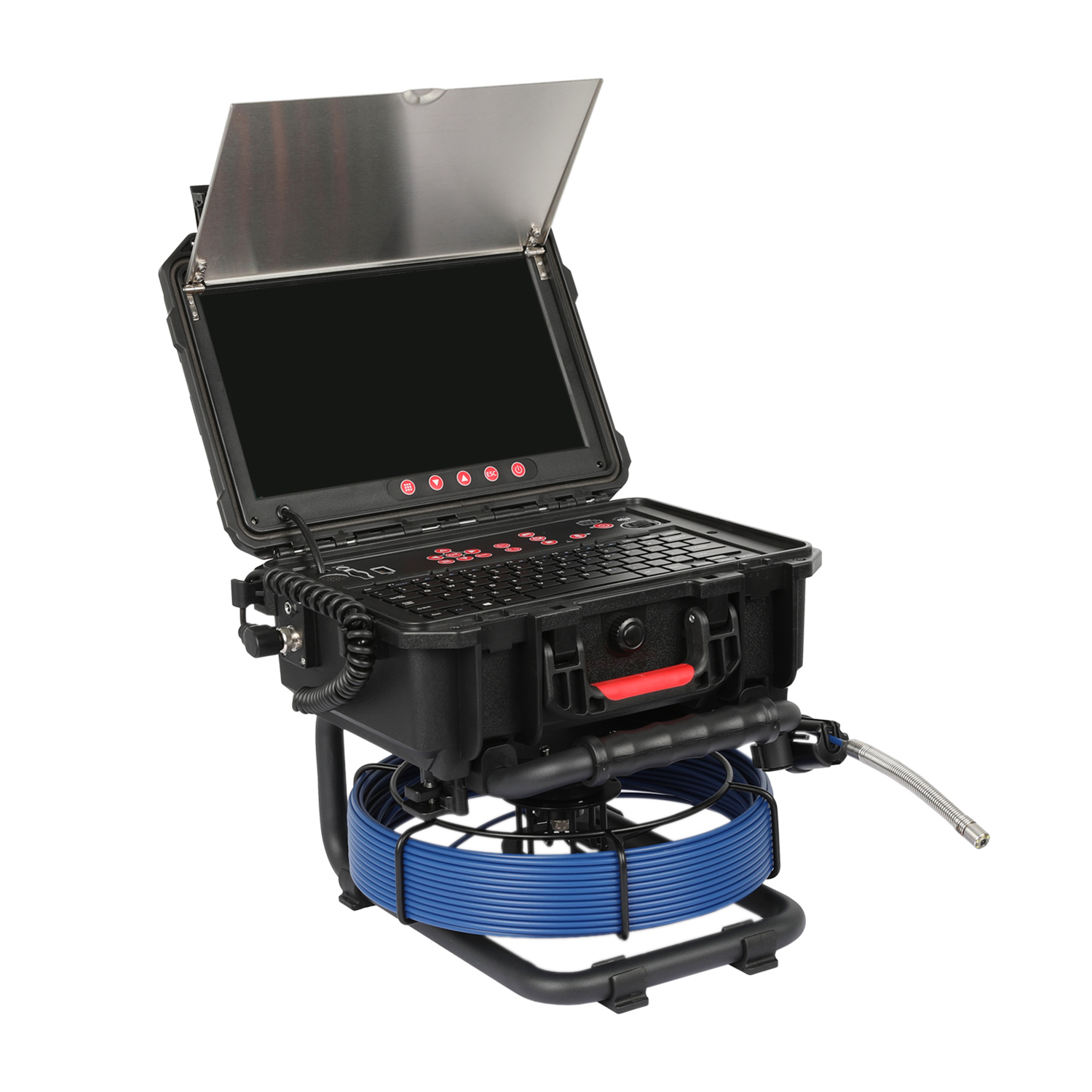 10/20/30/40M drain sewer pipe inspection camera with 12.8MM camera head
Standard with meter counter and wireless keyboard entry
Optional 512HZ sonde
9inch screen

Product details: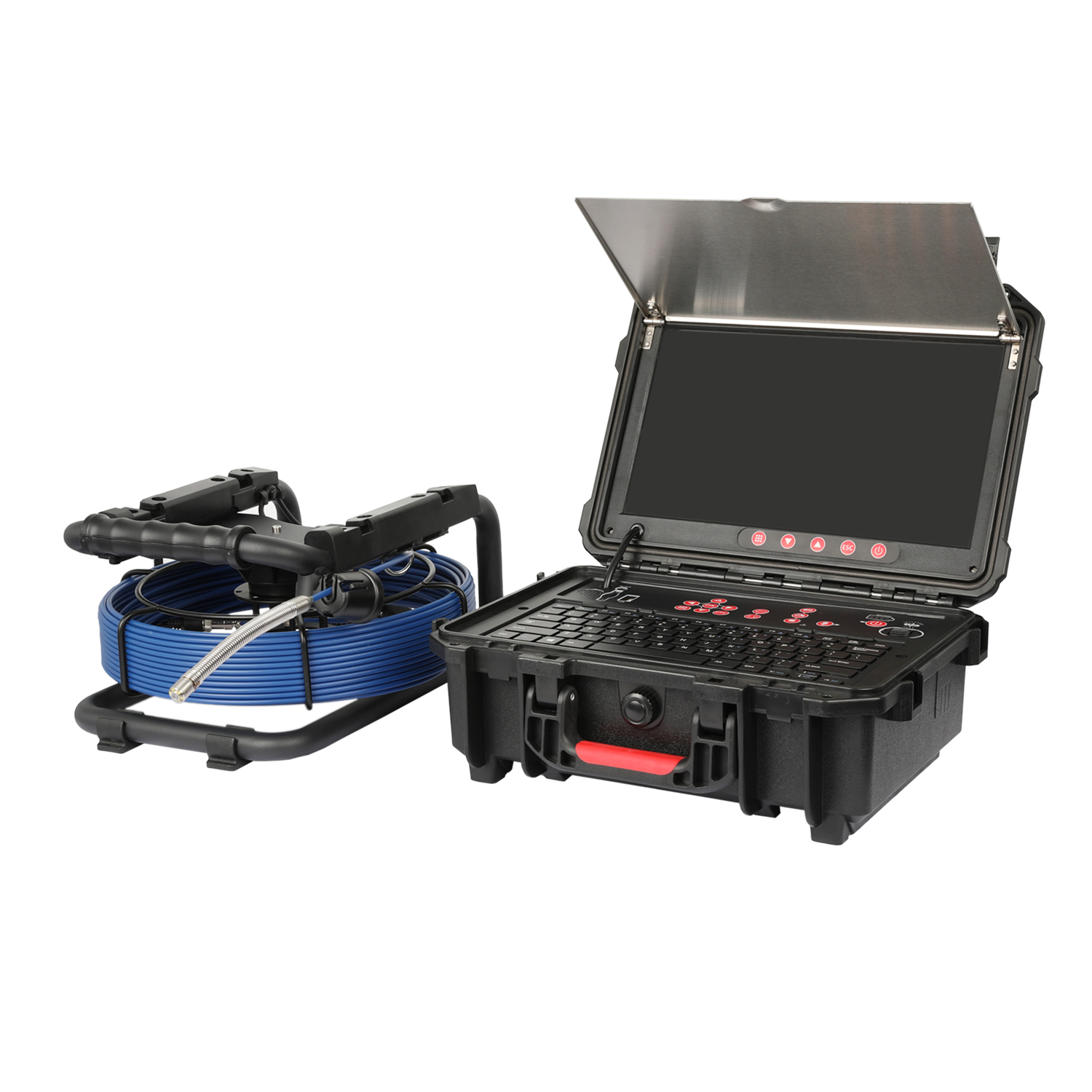 Features on the function design
1) Camera diameter 12.8mm(with push rod cable diameter 4.8mm cable) and 21mm(with 5.3mm ) are available.
2) Camera head with sapphire glass lens cover and 304 stainless steel housing allow the camera to withstand repeated hits in
various pipes.
3) Whole system is waterproof when the camera head is installed and the control box is closed.
4) 9''/13.3" IPS LCD color monitor with standalone power button to turn on/off the screen alone.
5) On-Screen date & time stamp and distance counter.
6)The meter counter reset button can recount the meter at any time as required.
7) The Meter-Feet button can switch the length unit easily.
8) Microphone for local audio recording, just one press on the audio button to turn on/off the audio recording.
9) The LED brightness control button is used pulley button without breakpoint dimming.
10) Wireless keyboard for text input on the real time picture or video like a laptop's, very easy to operate.
11) The external storage SD Card slot and USB port to store still pictures or videos.
12) The cable reel is out of the toolbox for easy cleaning and won't cause dirty in the box.
13) Rechargeable battery lasts up to 7.5hours continuous work(9inch DVR for 7.5hours, 13.3inch for 4hours).
14) Rotatable cable reel mounted in metal frame for convenient operation.
15) All-in-One visual pipe inspection camera system with push rod fiberglass cable length 10/20/30/40m and diameter φ4.8mm/5.3mm
for options.
16) Suitable for pipes with inner diameter at 15mm-200mm.
Optional functions/parts:
1. 21mm/12.8mm camera head with built-in 512hz transmitter
2. 21mm camera head with self-leveling
3. 21mm camera head with built-in 512hz transmitter and self-leveling
4.Wireless 2.4G 5inch monitor to synchronize viewing the host screen when collaborating with multiple people
Notice:All graphics and specifications are subjust to minor change without prior Notice. All rights reserved.

Industrial inspection camera applications:
Locating source of water intrusion.
Locating insects or dead rats or corrosion inside cavity walls.
Black mold inspection, insulation levels etc.
Electrical, plumbing, wiring, network/phone and CATV routing.
Small automotive engines and other related inspections.
Gun bore and related inspections.
Motor Inspections.
HVAC duct systems.
Sewer pipe inspections and related plumbing applications.
Avaiation related applications.
Natural gas pipe inspections.
Internal machinery part inspections.
Quality assurance inspections.
Mold and mildew inspections.
Insurance litigation and verification inspections.
Verfication of standards protocols in small and tight areas.
Building appraisal applications
Construction, property managers and contractors