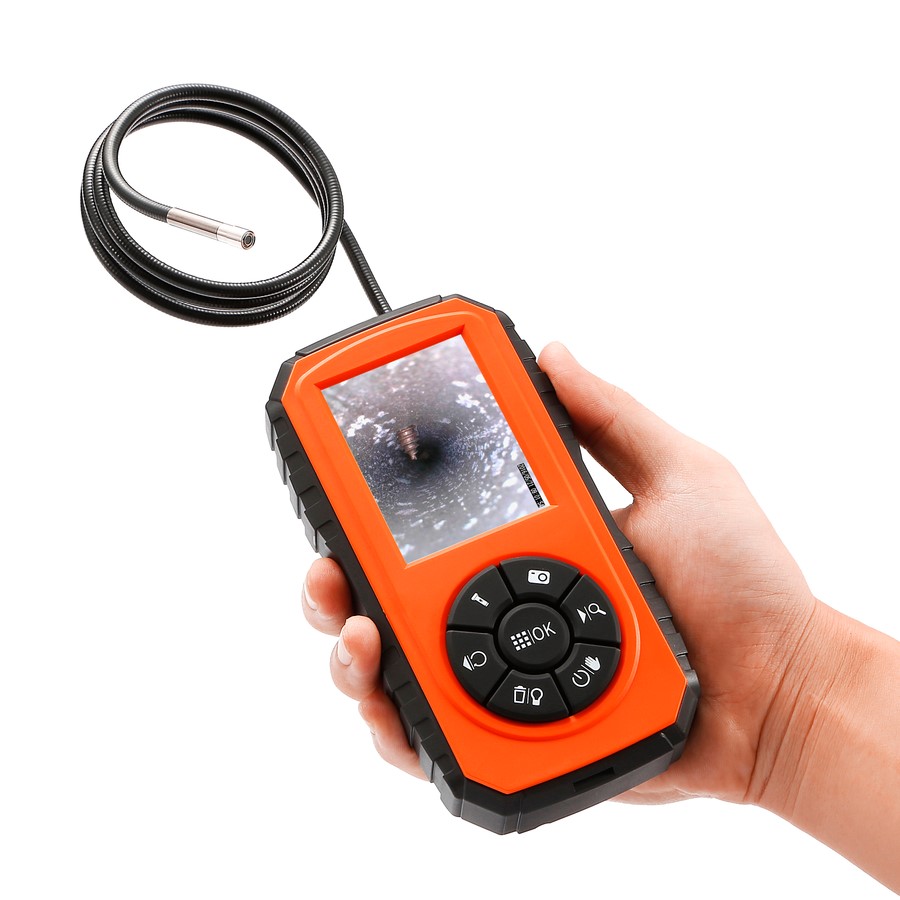 3'' TFT HD Video Borescope with 4.1mm camera support photo/recording function
720P HIGH-DEFINITION VIDEO INSPECTION CAMERA. This product will provide a rich user-friendly experience for inspection solution with complete specification and reliable performance. Please read this user manual carefully before using this product. This product is designed as a 720P HD real-time inspection camera and to unveil the internal objects and/or structures with the illumination of the highlight LEDs, it is appropriate for use in inspecting pipes/holes or other hard-to-reach areas, property inspection, equipment HVAC/R or furnishing installation, car repair or aviation maintenance ,search and rescue operations, laboratory observation, archeological exploration, and the visual inspection of otherwise inaccessible areas, etc.

Product details:
FEATURES
1M waterproof camera probe is coiled inside the case for storage
φ4.1mm ultra small camera head with semi-rigid snake tube
6 light-adjustable LEDs on camera head
3 inch TFT HD display for moniting
7 navigation buttons for function operations
Flashlight for irradiation at long distance
Internal storage for 30 pictures 4AA bateries for power supply(not included)
SPECIFICATIONS
Display Size/Type: 3inch diagonal TFT color LCD
Monitor Controls: 180° flip, 1X to 2.5X zoom in 6 steps, brightness + and –
Camera Head Diameter: 4.1mm
Camera Field of View:95°
Focus Distance: 1.5cm(Approx.)
Camera Depth of Field:20cm(Approx.)
Camera Light Source: adjustable-brightness white LEDs
Probe Length & Type: 1m flexible-obedient
Probe/Camera Head Water & Dust Resistance Level: IP67
Battery Life: >3 hours (typical)
Operating Temperature/Humidity: 32° to 113°F (0° to 45°C) @ 5 to 95% RH
APPLICATIONS
Automobile service, Aviation maintenance, Archaeological expedition, Lab observation, Search and rescue, Oil&Gas industry inspection, Equipment or Furnishing installation, etc.